Stair Guarding for Your Home - Versatile Safety Device
When stairs in the house become a danger, this can have different backgrounds. One thing is certain: stairs need to be secured - for example, in the form of a stair net. You can easily install the barrier net at the up and down staircase and thus ensure that no one enters the cordoned-off area who is not able to open the staircase safety device. Unfortunate falls and accidents can also be reliably avoided with the help of such a barrier.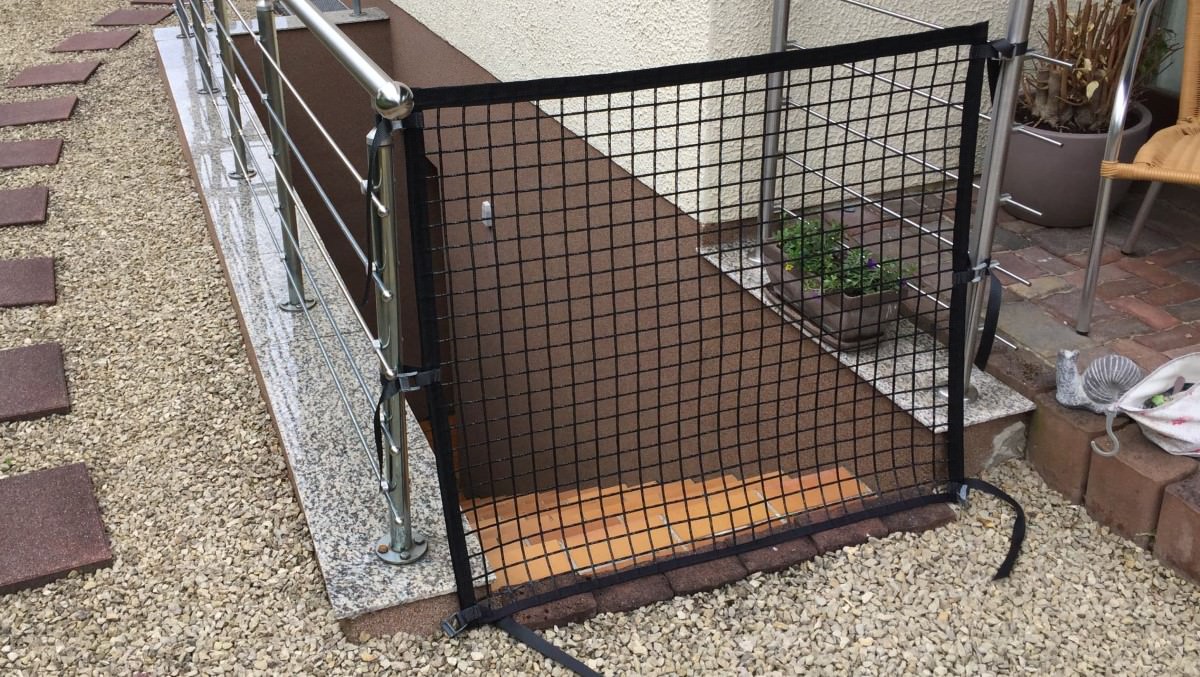 Barrier Net as Child Protection
For new parents, child-proofing their home is certainly the main reason for installing a safety net at the top and bottom of the stairs. After all, stairs pose a particular risk to babies and toddlers who are just beginning to move around independently and curiously explore their surroundings. After all, the children cannot yet estimate the height and are possibly just as incapable of going down or climbing the steps step by step. With a protective net as a stair guard, you can limit the play and exploration area of the little ones and prevent stair falls and accidents - for maximum safety in your own home.
Thanks to the flexible material, the safety nets can be used not only as a barrier, but can also be installed elsewhere: For example, as an extension of the stair railing.
Safety for Seniors Thanks to Barrier Net
In addition to the youngest among us, the eldest may also need special protection. If seniors are no longer good on their feet, a stair guard can also make sense and make living together easier. Although older people are usually able to open the safety net themselves, it still protects them from unintentional falls down the stairs - for example, at night when it's dark, when they trip or when their balance falters. Thus, the safety nets are suitable not only as a child safety gate, but also as fall protection for the older generation.
Limit Territories of Dogs and Cats
If you live with pets under one roof, a barrier net may also prove useful. Often dogs and cats should not enter certain areas of the house or apartment. In theory, such boundaries are quite simple - in practice it looks different. In many households, therefore, a tangible barrier in the form of a dog gate or cat net in the doorway or on the staircase is the only option for effectively blocking off passage.
In addition, stairs in particular can also be a hazard for four-legged friends - slippery steps, clumsy paws or damaged joints make going up and down a risky situation for pets that should never be left unattended. Here, too, a barrier in the staircase area can remedy the situation and prevent dogs, cats and co. from leaving their designated territory.
With a mesh size of 40 mm, our protective nets prove to be particularly effective and safe in this respect: unlike dog barriers, which only work with vertical bars, the animals can neither squeeze through the net nor get stuck in it thanks to the small openings.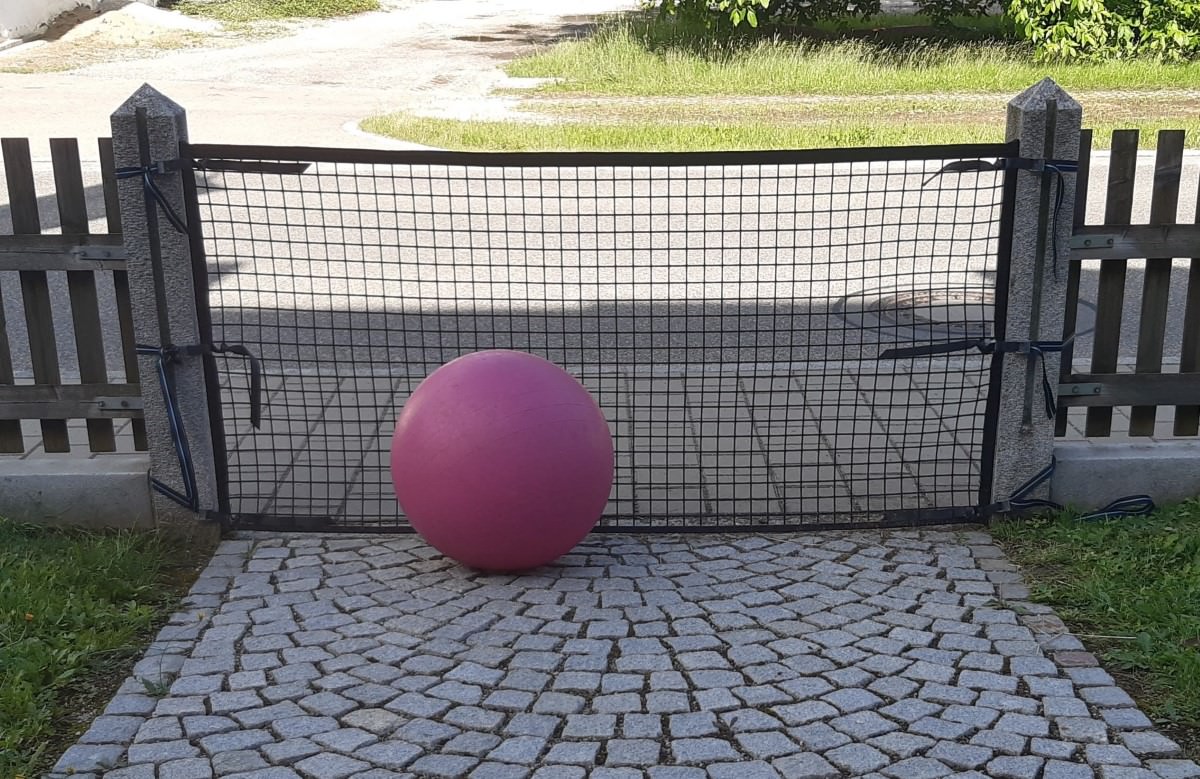 Protective Net as Flexible Stair Guard
Safety nets are particularly well suited for securing dangerous stairways and stairway descents. They are a proven alternative to permanently installed stair guards and basically act as flexible protective grids that can be easily removed or remounted at any time. This makes stair safety nets the right choice, especially for occasional use.
The simple assembly and disassembly of the safety net on the staircase or banister brings another advantage: as soon as securing the staircase is no longer necessary, the barrier net - unlike a rigid grid - can be used elsewhere without any problems. The robust, weather-resistant safety nets from safetynet365.com are also perfectly suitable for outdoor use. For example, you can install your safety net just as well as an alternative to doors and fences outdoors.
Another plus: Thanks to the dimensionally stable polyester with PVC coating, the net remains tightly stretched even under load and convinces with quality and stability. In addition, the flexible alternative to door guards made of metal and the like does not pose any risk of injury from crushing or the like. The materials used are completely non-toxic and can therefore come into contact with children and animals without hesitation.
The staircase protection net is fastened with the help of six already sewn-on quick-release straps on the sides of the net. Once dismantled, you can easily roll up the net and store it to save space. The attachment to the railing can usually be done without screws and drilling, so there are no unsightly drill holes that need to be removed later.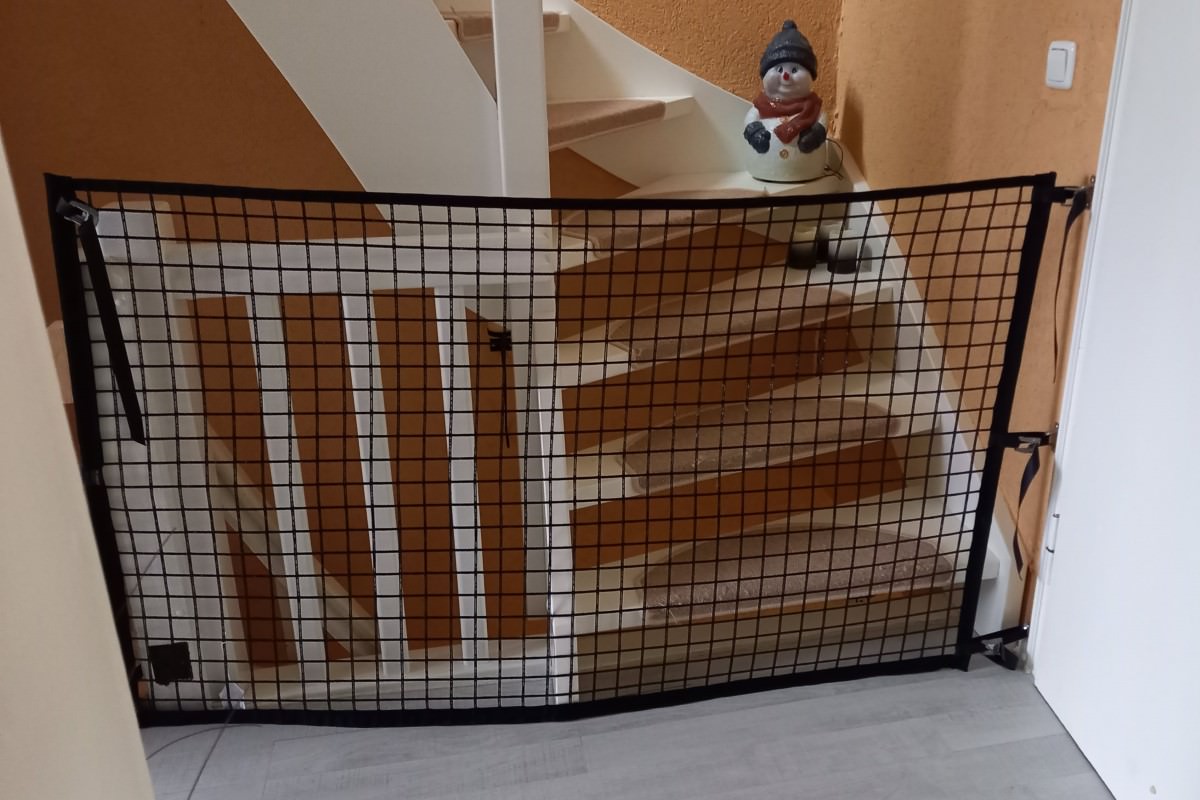 Configure Custom Barrier Net for Stairs
Our dimensionally stable yet flexible staircase safety gates made of 4 mm thick polyester fabric are available with a mesh size of 40 mm and a net height of 1 m. To make the barrier net fit perfectly to your staircase, you can set the width of the net as needed and thus customize the door safety gate. Simply enter the desired length and configure a protective net that fits like a glove: whether for the stairs in the house, as a door to the basement exit, as a fence in the garden or as a property security in the yard.
If you have any questions or uncertainties, our team of experts will be happy to provide you with advice and support in the selection and configuration of your safety net. Simply get in touch!
In our online store you will also find other bestsellers to secure not only stairs but also balconies and terraces and to make certain areas in the house and on the property safe for animals and children. Feel free to browse through our assortment!