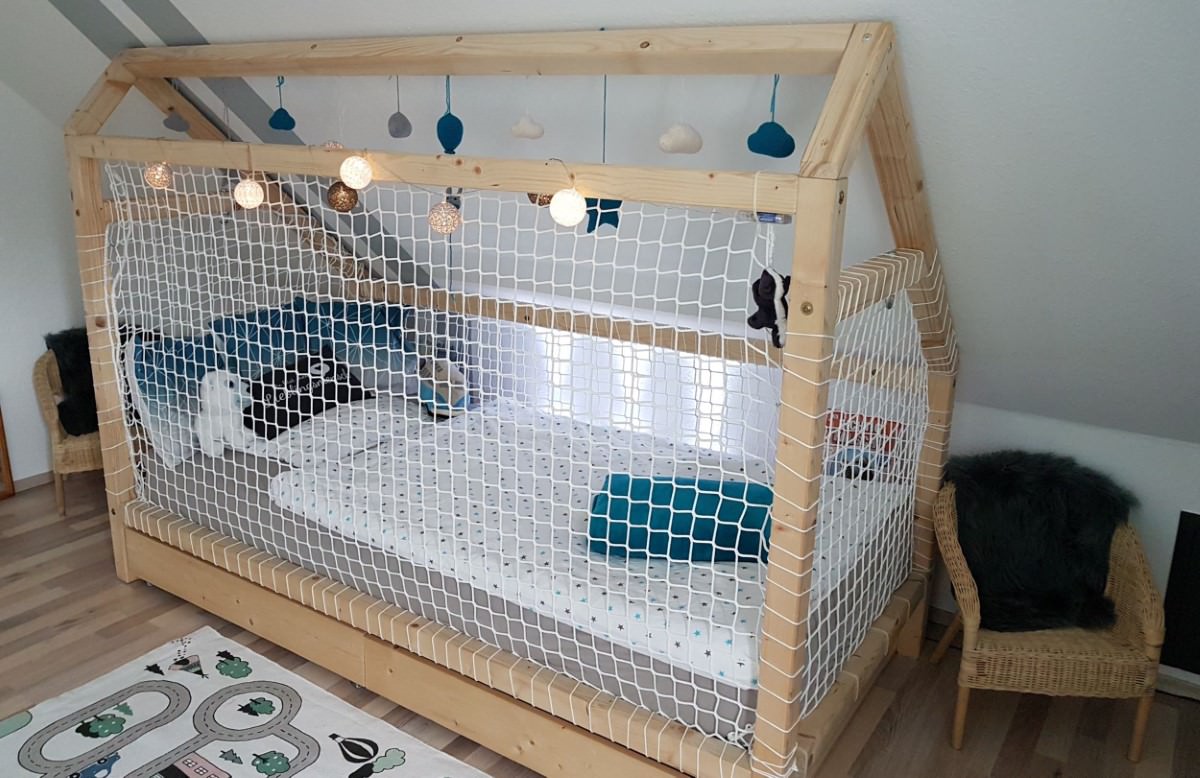 Safety Nets for Bunk Beds Put Parents' Minds at Rest
One sensible safety model is the installation of a loft bed net. Here, a net is installed on the loft bed to protect the child from falling out. These nets close the spaces between the guardrails and raised edges, which do not suffice to provide complete protection from falling out of the loft bed.
Despite the use of a safety net for the loft bed, the room still feels airy and spacious – which would hardly be the case with a closed partition wall. In addition, the kids still remain easily visible from a distance through the net their room. A loft safety net makes it absolutely impossible for children to tumble over the edge while playing or sleeping. A loft bed equipped with a safety net thus ensures safely playing children and reassured parents.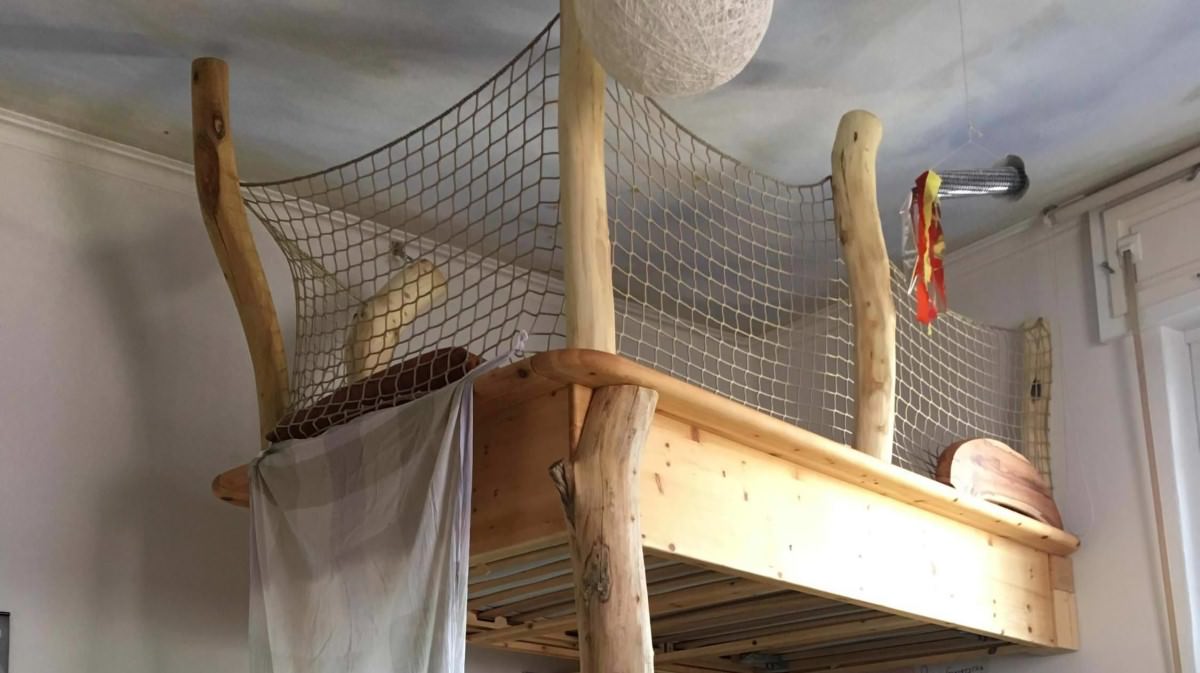 Child's Bed Safety Nets With Assured Quality
Loft safety nets should have a small mesh size to prevent children being tempted to climb them. The Safetynet365 shop offers a mesh size of 45 mm. This size has proved its worth and ensures a good balance between safety and visibility in the children's room.
Nets for children's rooms are made of high tenacity, knotless polypropylene and can be ordered from us in material thicknesses 3 or 4 mm. The loft bed safety nets are available in one color and in a specially designed, colorful version for children's loft beds. Every parent should learn how to attach a safety net to a loft bed: after all, the safety of your children is at stake here. We're happy to provide tips for installing it, so that your little ones can safely reach out from their loft bed into the safety net without any risk at all. Theoretically, the safety nets for loft beds are also suitable for outdoor use, as they are weather-resistant and UV-stable. So you can rest assured that you will be able to deploy the safety net for many years to come. One especially important point: the safety nets for high-built children's beds are non-toxic! Consequently, contact with the mucus membranes via the mouth is harmless and has no ill-effects.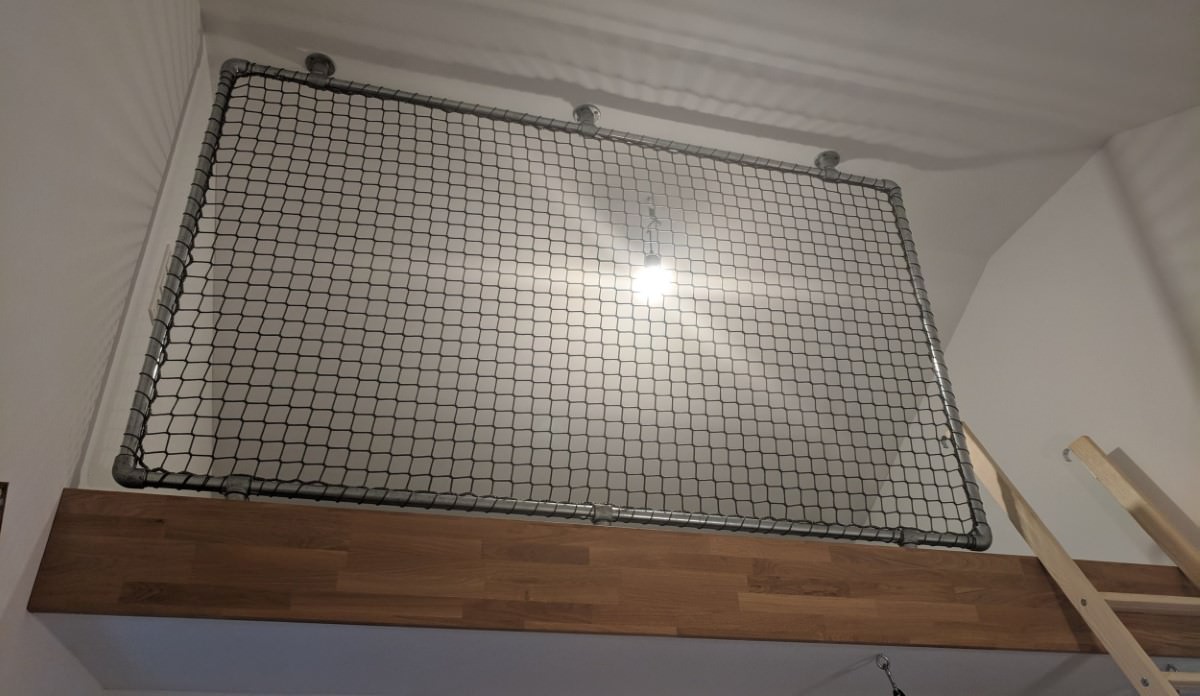 Custom-Made Fall Protection for the Loft Bed
When playing and sleeping in loft beds, children's safety is of paramount importance. However, as every loft bed and room has different dimensions, each loft bed requires an individually designed net to protect children from falling out. To achieve this, we offer you a precisely made-to-measure safety net for your little ones' loft beds. And so they can sleep safely up aloft with fall protection even on holiday, we're happy to advise you on safety nets for bunk beds in a caravan or motorhome.
However, loft safety nets can also be used in other places, where nets need to be installed vertically to ensure safety. As on a loft bed, a safety net can be used to provide fall protection in attics and on landings, galleries and staircases. As you know the required measurements better than anyone, you should have your loft bed net individually made to measure, down to the square meter. If you need any help with the measuring or have any questions concerning alternative uses for the net, our staff will gladly assist you.