Sandpit Cover: Protective Net & Cover Sheet
Building castles, digging canyons, conjuring up ice balls: a sandbox makes children's hearts beat faster and is ideal as a play corner for young and old. If you can still find a little space in your garden at home, on the terrace or in the backyard, there's a good reason for choosing the sandy play oasis: Here, the toys can be left lying around, yesterday's works of art can still be marveled at tomorrow, and even the smallest ones can dig and mud without any great risk. But once left unattended, other visitors also feel right at home in the sandbox: cats, mice, birds and other animals use the sandy area not only as a playground, but also as a toilet. If you want to protect yourself from animal droppings in the sandbox and also avoid other soiling, you need a cover. With a cover or a protective net for the sandbox, unwanted guests are a thing of the past. This keeps the sandbox a clean place where children can play freely and exuberantly - without parental concerns.
Advantages of the cover net:
Individual made to measure
Tear resistant and dimensionally stable
Different mesh sizes possible
Wide range of colors
Absolutely non-toxic material
Versatile fastening options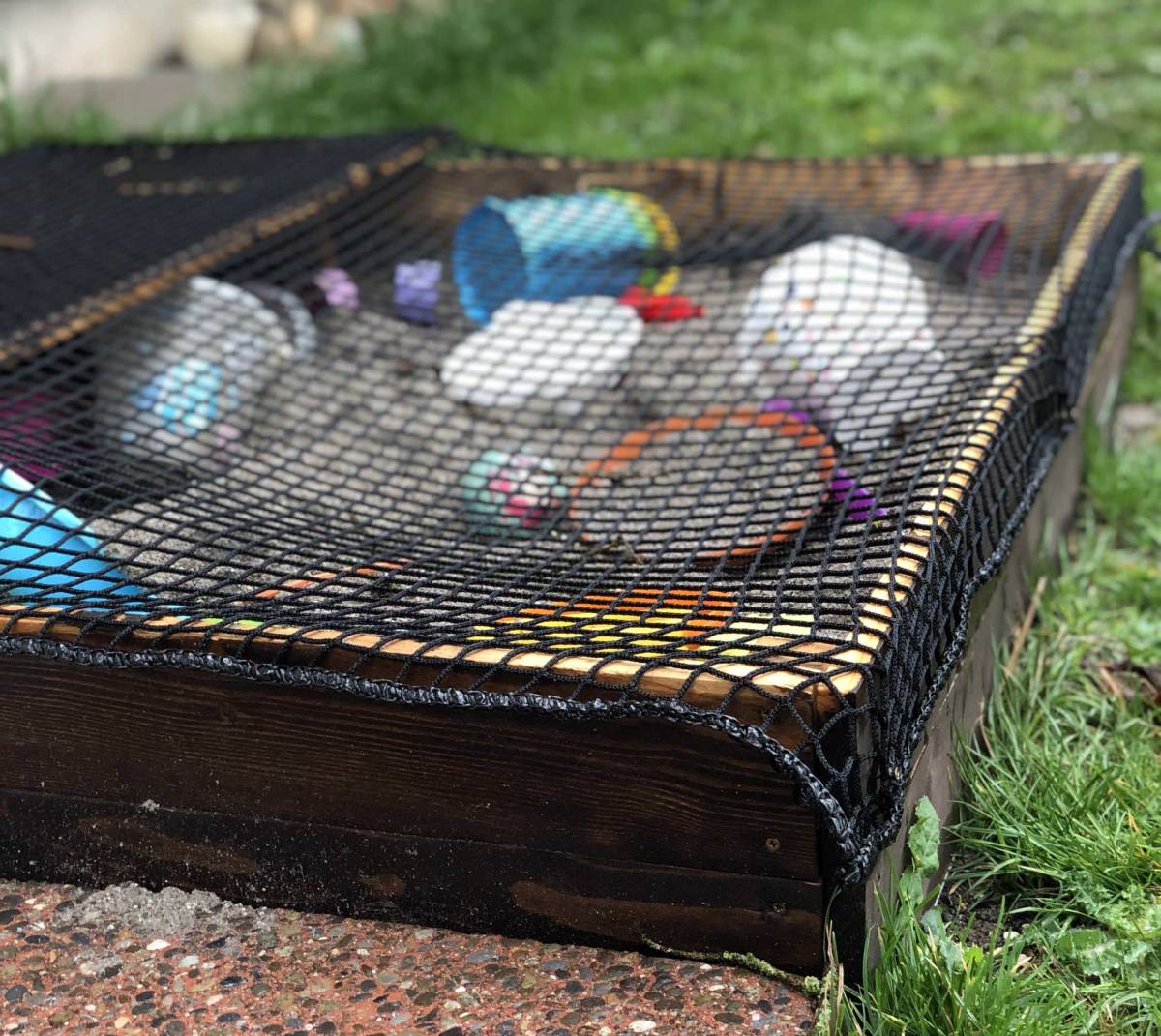 Clean Sandbox Thanks to Cover
Sandboxes are already very popular with the youngest children: Here they can move freely, experiment with their hands and feet, dig, mud and build. Especially in toddler age, however, children tend to feel their surroundings with all their senses. It is not uncommon for sand to end up in the mouth. What in itself is harmless can quickly become a problem in an unsecured sandbox. Cats, in particular, feel especially at home on sandy ground and leave behind droppings and other excrement, some of which they bury in the sand. So the dirt is often not even visible at first glance and only falls into the hands of the children when playing.
This makes it all the more important to keep animal bacteria and germs out and make the sandbox a hygienic place. After all, even the youngest children should be able to play in the sand without being permanently supervised by their parents. A sandbox cover makes exactly that possible. With the help of a protective tarpaulin or a cover net, the play corner can be secured against intruders and kept clean in the long term - so even falling leaves and dirt don't stand a chance.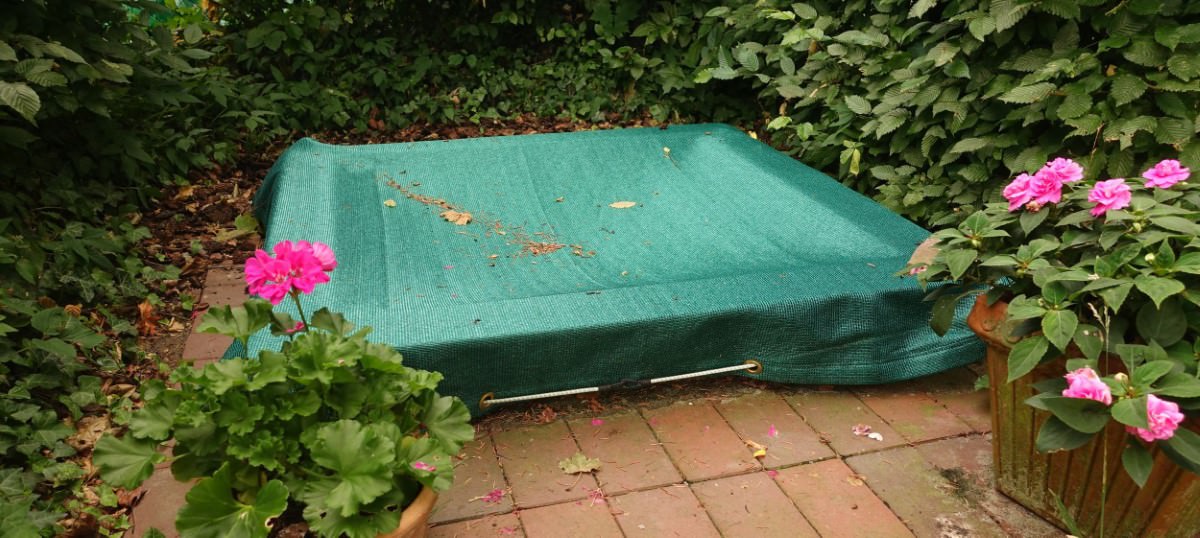 Protective Net and tarpaulin as an Optimal Sandbox Cover
But what makes a cover net or a cover sheet the ideal protection for the sandbox? Our protective nets score points above all for their quality and durability. Due to the processing of tear-resistant, UV-resistant materials, the cover nets are ideally suited for outdoor use. The fabric is 100% non-toxic and poses no danger whatsoever when it comes into contact with skin and mucous membranes - children themselves can also handle the sandbox cover without hesitation.
A protective net also offers some relevant advantages over other cover constructions such as wooden panels and plastic sheets or tarpaulins. Wooden covers and metal mesh are usually quite bulky and heavy - so at least one adult is always needed to remove the cover. Otherwise, bruising or even worse injuries can occur. Also, while the sandbox is in use, the structure must be stored safely and, at best, out of reach so as not to be a source of danger to children while playing. Protective nets and tarpaulins, on the other hand, do not pose any additional risks for the little ones: depending on their age and the size of the sandbox, the children can even remove the net themselves or at least help to cover and cover the sandbox.
Another advantage is air permeability: whether protective netting or tarpaulin - the materials used are breathable and permeable to air. While wood covers and impermeable plastic tarpaulins often harbor woodlice, ants and other vermin, a net-like structure of the sandbox cover keeps creepy crawlies away as far as possible. Other phenomena such as fungus and mold growth are also prevented by maintaining the natural climate.
In addition, a cover for the sandbox also provides protection from leaves and other debris.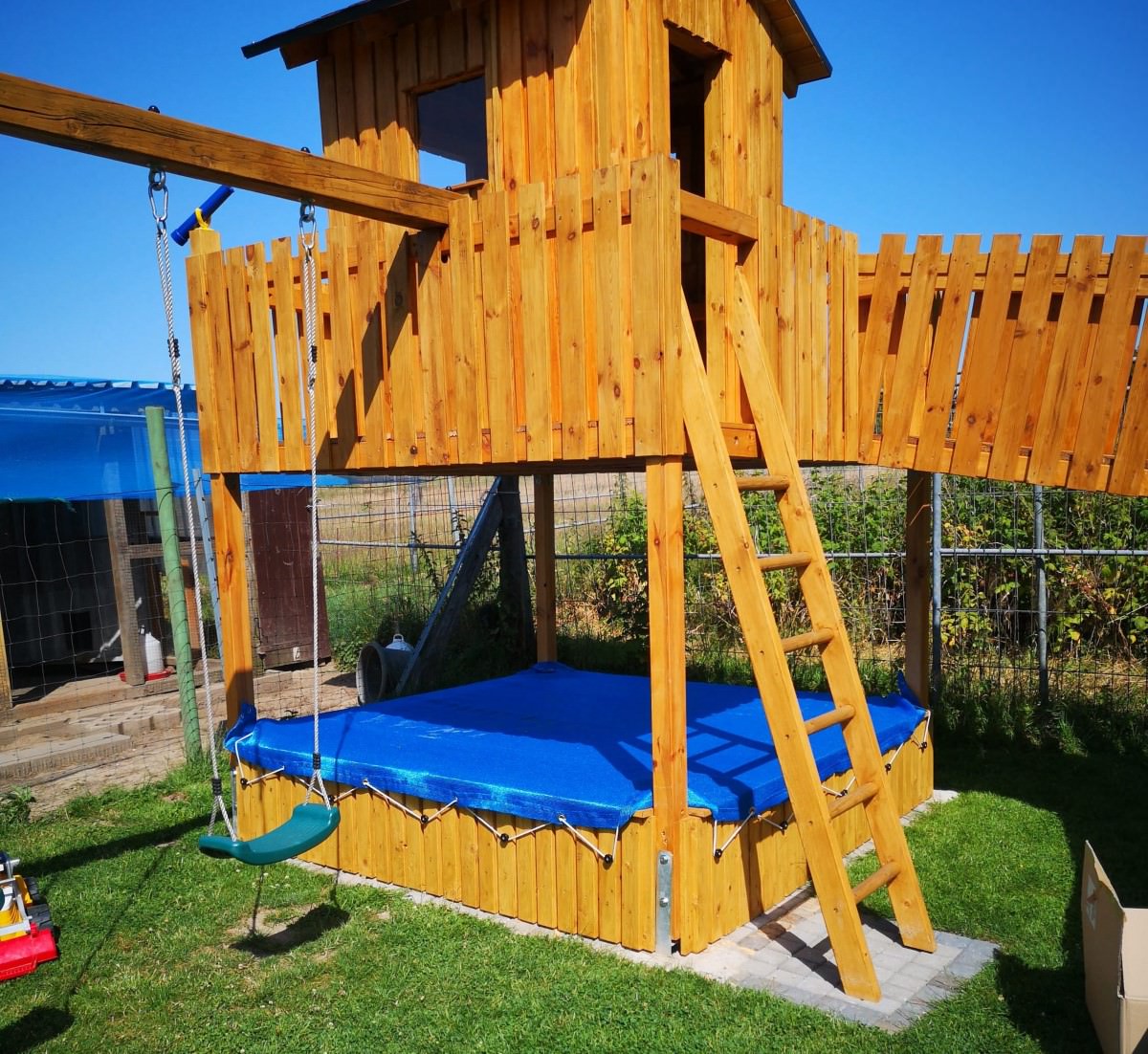 Protection With Quality Made to Measure
Whether sandbox cover net or air-permeable sheet - our sandbox cover products convince with quality and individuality. The robust nets made of high-strength polypropylene and the protective tarpaulins made of air-permeable polyethylene reliably withstand rain and cold without mildew and are also UV-resistant. Thanks to customisation, you can optimally adapt the sandbox cover to the size of the playing area and choose for yourself how the net should be attached.
The sandbox cover nets can be equipped with an additional elastic band, which is simply threaded through the edge meshes or eyelets. The protective nets are available coarse or fine mesh with a mesh size of 45 mm or 20 mm. The cover sheet with a mesh size of 1 x 3 mm can be provided with any number of eyelets on the reinforced outer edge. If you are planning a different type of fastening, you can also dispense with the integrated eyelets altogether.
Matching accessories such as plastic knobs for hooking the net or an additional shock cord with fastener hooks, tent pegs for fastening to the ground or an integrated lead cord weight offer an optimal complement for the chosen sandbox cover.
In addition to the dimensions, you can also freely choose the color of your sandbox cover: So you decide whether the protective net should blend inconspicuously into the overall picture in a neutral color such as green, gray or white or become a real eye-catcher with a colorful color scheme.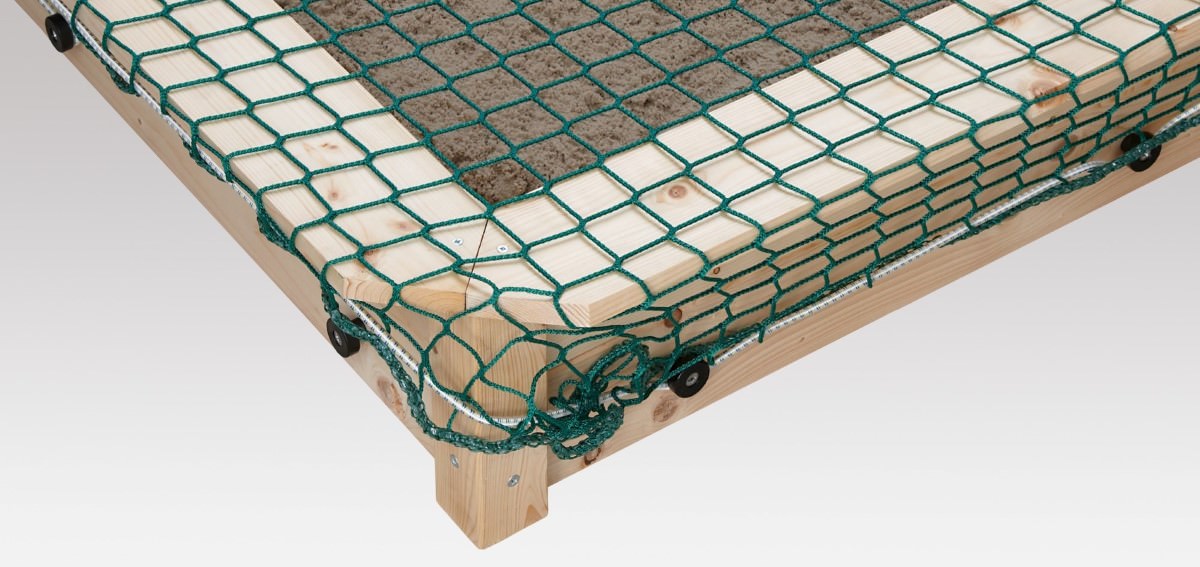 Buy Sandbox Cover
At Safetynet365 you can customize the sandbox cover according to your needs and the conditions on site. Simply choose color as well as dimensions and order the custom-made cover directly to your home. Thus, animal droppings and annoying leaves are a thing of the past - whether in the garden at home, in the kindergarten or on the playground. If you have any questions about the choice of cover or mounting, please feel free to contact us.