Pond protection nets can fulfill various functions: Either they serve as protection for the garden pond itself, for fish and other pond inhabitants or as personal or child protection. Depending on the purpose, a distinction is made between leaf nets, heron nets and personal protection nets:
Leaf protection nets are fine-meshed and catch leaves, fallen fruit, branches as well as other impurities so that they do not enter the pond. In this way, the nets keep the pond ecosystem intact and clean.

Heron nets, or bird nets, have somewhat coarser meshes and keep herons, birds of prey and other animal threats away from the pond inhabitants.

Personal safety nets prevent accidents and ensure that children can play carelessly in the garden without the water becoming a danger. The nets also safely catch adults in the event of an accident. To make a pond childproof, the mesh size is less important than the material thickness - it makes the pond net stable and thus perfect for child protection.
Especially for families with small children, personal protection nets for the pond are a sensible investment that can save lives in an emergency. But even if there are no small children in the house, a pond safety net can be worthwhile. After all, a garden pond can also become a danger for children from the neighborhood or relatives. The same applies to adults who overlook the pond in the dark. Last but not least, a cover net also protects thirsty or curious pets and small animals from falling into the cool water.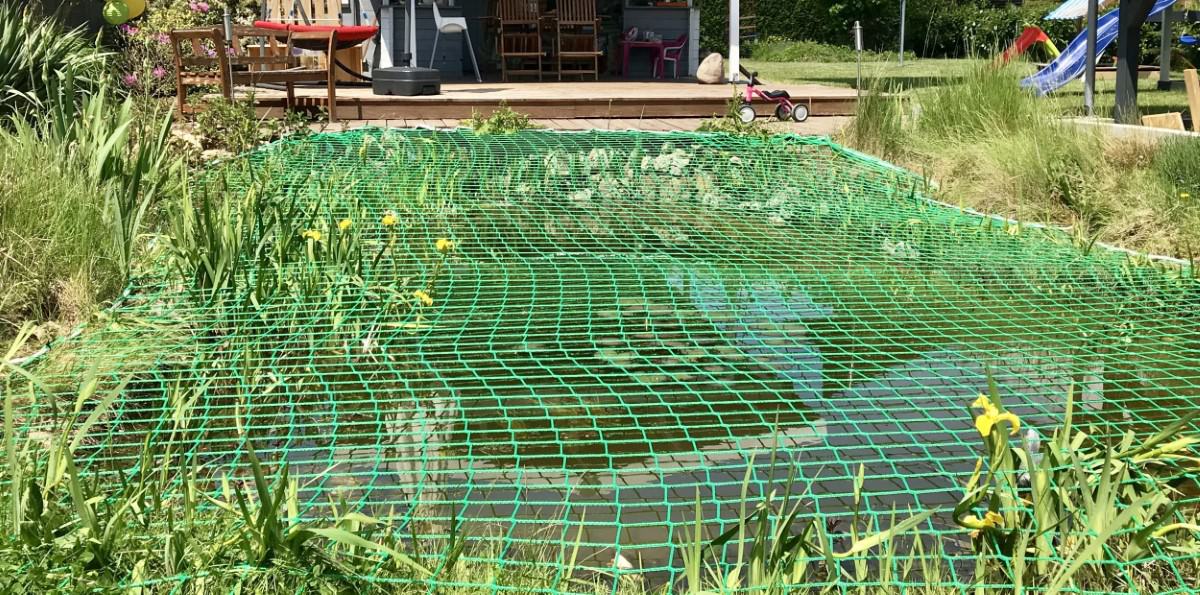 How to Make a Pond Safe for Children?
To ensure that the garden pond does not become anyone's undoing, it should definitely be secured - all year round. While leaf nets, for example, are mainly needed in the fall, when leaves and fruit fall from the trees, accidents can always happen. Not only when there is a party in the garden or when playing outside in the summer. Even a brief moment of inattention is enough to be unable to prevent someone from falling into the water. Once the accident has happened, it has to happen very quickly - especially with children or animals that cannot swim and are not used to contact with water. With a polypropylene pond protection net, these worries and moments of fright are things of the past.
Caution: The pond cover nets are strong enough to catch adult persons. Due to the material-related stretching of nets, it should be noted how far the net stretches towards the water surface when loaded. Because a net alone will not help, only proper shoring of the pond net will prevent worse accidents.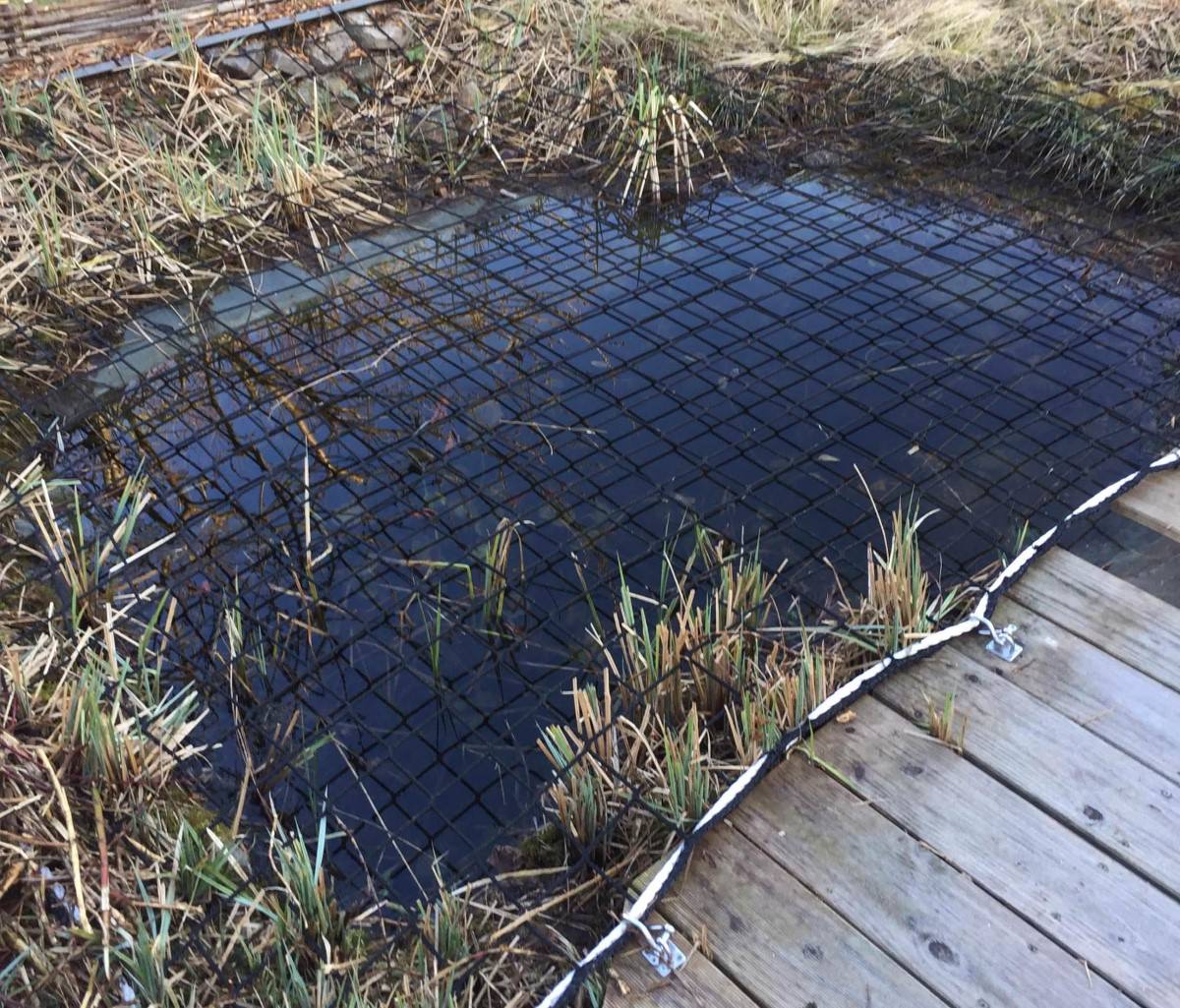 Advantages of a Pond Safety Net as a Child Safety Device
Wire mesh fencing, structural steel mesh, plug-in fencing, grids and co.: If you want to childproof your garden pond, you have many options to choose from. What makes a net the optimal cover to prevent accidents?
With a material diameter of 5 mm, our garden pond nets resemble professional protective nets used in construction. This is how we ensure that no one really gets hurt - whether child or adult, cat or dog. The robust nets are custom-made and can thus be optimally adapted to the size and shape of your garden pond. You can also choose the color of the net and the mesh size yourself when purchasing.
Once installed, the pond net will remain with you for a long time - for this we rely on UV-resistant and weatherproof as well as tear-resistant polypropylene, which is just as unaffected by the moisture of the pond as it is by the punctual load of weight from above.
While a pond fence visually isolates the water from the rest of the garden and possibly even invites children to climb, a personal protection net blends in as unobtrusively as possible. In this way, the natural flair of the garden pond is preserved, the plants in and around the pond are shown to their best advantage, and the fish in the water can still be observed and fed. Also the pond maintenance can be done easily with a net as pond protection.
Unlike a pond cover on which children can move freely, such as a grid made of metal, the learning effect is still maintained with a protective pond net. Children are encouraged to be careful and approach the water attentively and with a certain respect. They cannot just walk on the surface of the water. If they do slip or fall forward, the pond cover acts as a child safety net and ensures safety.
Another advantage: If you choose a small-meshed net instead of a fence, your pond protection net fulfills several purposes at once. For example, a personal protection net with small meshes automatically also serves as a leaf net and at the same time protects the animal inhabitants from herons and co.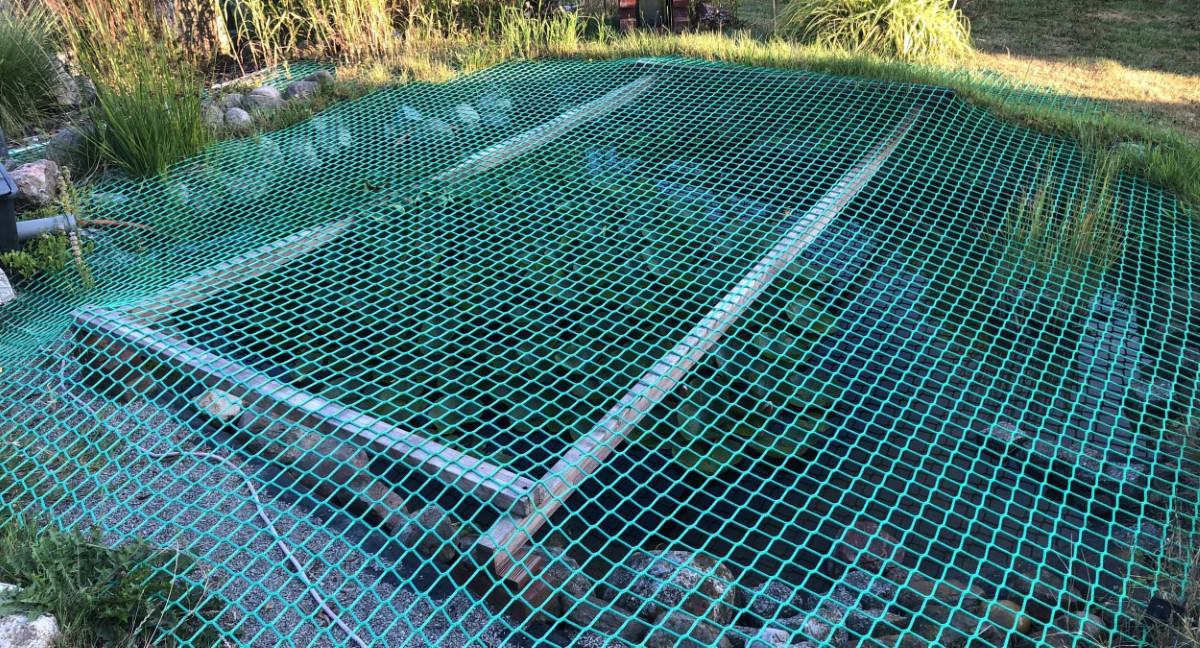 Pond Netting: Personal Protection Made to Measure
Our robust personal protection nets for the garden pond are available with three different mesh sizes depending on requirements: 45 mm, 60 mm or 100 mm. A surrounding border edge gives the 5 mm thick protective net maximum stability and is supplemented by an additional border rope on delivery. This provides additional stability for the edge area of the cover, which is subject to particularly heavy use, and also makes it easier to fasten the pond net.
The processed polypropylene is tear-resistant, durable and knotless weave. Thanks to its UV and weatherproof nature, the net is ideal for use on the garden pond.
However, in order for the personal safety net to do its job, it must also be properly tensioned and mounted. You can also find the necessary accessories for fastening the pond net in our online store: from ground spikes to carabiners to suspension ropes. If you have any questions, do not hesitate to contact our customer service. We will be happy to assist you in securing your pond!